The most pervasive problems from a western diet is called damp by TCM, a condition of excessive mucus, phlegms, and edema. Damp  is due to eating too much refined carbohydrates such as white sugar, rice, bread noodles, etc., that overload and weaken the spleen, which is the main organ that removes damp. Cholesterol and triglycerides are examples of damp.
Damp is conducive to the development of mucus, sinusitis, asthma …. and the growth of fungi, yeast, pathogenic bacteria and viruses, parasite, cyst, tumor and cancer.
We have discovered a wholefood supplement which contains stabilized rice bran as its main ingredient plus many phytonutrients, antioxidants which are very helpful for strengthening the spleen to expel damp.
Most people obtain benefits from this supplement because refined carbohydrates deprive people of the rice bran that enhances the spleen  and "earth elements" that soak up the damp. So you should try it at least for 2 weeks, as improvement may not happen right away.
However, food supplement does not treat disease. They replenish nutritional deficiencies to improve health and a healthy body can heal itself.  Not everyone can benefit from this supplement, as we have different deficiencies. Hence, we make no claims or guarantees of any kind.
Moreover, initial discomfort may occur due to detox or severe MBB. Consult your physician or contact me at doctor.tong@gmail.com.
The testimonies below show the broad range benefits of this wholefood powder made in USA containing stabilized rice bran and many phytonutrients, antioxidants, etc. 
TESTIMONIES
95% RETINAL DETACHMENT – the case that convinced me about Zeal.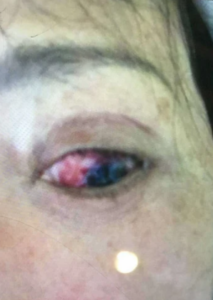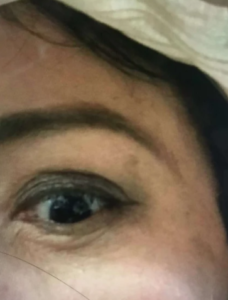 ANTI-AGING, WEIGHT REDUCTION — Annie, Feb. 2019
Annie (Left front in red) had been overweight. She took 6 Zeal drinks a day and developed abdominal cramps. After 3 days of BM's, she has become slender and pretty.
                           
ANTI-AGING, SEVERE SCIATICA — Mable
Mable suffered severe Sciatic pain in April, 2018. She had a hard time walking and had to crawl up the stairs. She had tried a lot of natural therapies (except mine), all to no avail. She also had headaches, itchy skin and cold sores and had to shave her hairs.
She then took 6 Zeal drinks a day, and within a week her Scitica pain was gone!
        
DIABETES, HYPERTENSION, MIGRAINES.
SMOKING, ASTHMA, SINUSITIS, HEART DISEASE. 
HAIR LOSS, LEG ULCERS.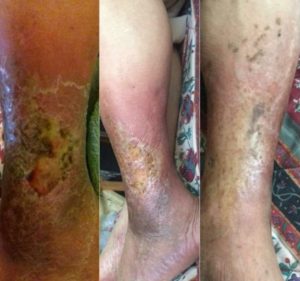 HEARING LOSS, EAR PRESSURE, TINNITUS
TESTIMONIES FROM OUR PATIENTS
1. GOUT
Eric came to me last year suffering from gout, and could hardly walk. My NBE treatments enabled him to hike 40-50 miles per week. He started taking Zurvita in April following my recommendation, and has had further improvement as shown by the data below: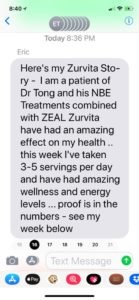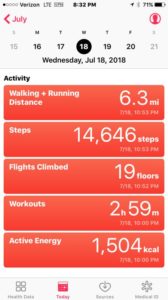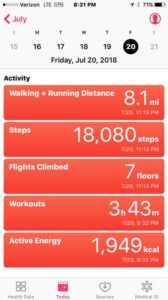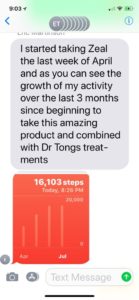 2. FATIGUE, SUGAR CRAVING
BILL felt tired after work and does not have enough energy to play with his grandson. He also had craving for sweets.
3. DIALYSIS, LOSS OF BOWEL CONTROL
4. DIALYSIS, FRAGILE SKIN WITH BRUISES AND BLEEDING FROM BLOOD THINNER
DYANA came to us 9 years ago with end-stage kidney disease. Her kidney function test (eGFR) was 19 (normal = 61), but she could function normally until it dropped down to 12, then she couldn't function. She was told that she would need dialysis in two months. She struggled for 8 months without dialysis and found us. My first treatment rejuvenated her energy and raised her eGFR to 19.                                                                                Our treatments have kept her living normally without dialysis. However, she was not careful about her diet or coming for regular treatments, as a result, she had a blood clot recently. Her eGFR dropped to 3! She was placed on blood thinner, which caused her skin to be fragile like tissue paper with numerous bruises and bleeding. She was very sick.             https://youtu.be/5Sl1etM11B4   
A WRITTEN TESTIMONY BY DYANA                                                I had never been sick before, but in November (2010), a blood test revealed a serious kidney problem.  After a referral to a specialist, I was immediately scheduled for other tests and to the hospital for a kidney biopsy which ultimately resulted in a diagnosis of rapidly progressive cresentic glomoruloephritis, a rare rapidly progressive kidney disease.  Following this diagnosis I was prescribed daily medications, as follows:      
                          Amlodipine   10mg              Metoprolol   25 mg                           Simvastatin   20 mg                                    Furosemide 20 mg              Benazepril 20 mg                             Omeprazole 40mg                                    Cyclophosph 25 mg             Prednisone 30 mg            
In November, this specialist (Nephrologist) told me that I would be in dialysis by January 2011.  Despite his prediction, I determined with resolve to do everything in my power to resist dialysis.
From the start, and with each visit to this doctor, there was difficulty with  communications On one visit, speaking to me, he used the medical name, cresentic glomorulomephritis. Unfamiliar with it at that point, I asked to explain what he was referring to.  His response was to tell me that " if you go on the internet, it is the first thing that comes up". I asked him "What if I don't have internet?" His response was "Go to the library".  It seemed that each appointment was more unpleasant than the previous, finally resulting in my seeking a referral to another doctor.
During this time, although remaining off dialysis, I was extremely weak.  Walking very short distances caused shortness of breath and there was a severe loss of  my normal strength. It was even an effort to simply bend over. My blood pressure was very high despite medication) legs and ankles swollen.  Much of the time was spent laying down. I had little appetite, nothing tasted good. I rapidly lost a substantial amount of weight. Twice there came a point where I felt so ill I could no longer even take medication.
At the first appointment with the new Nephrologist, I explained to him that I could not continue with that doctor due to lack of rapport.   I was quite upset and emotional, even crying. He knew the doctor, I believe they were colleagues. His advice to me was to return to that doctor, likening it to a "trainer who has raised a horse from a colt".   I responded that "he had not raise me from a colt". for I had seen him only for a short period of time, a handful of appointments. Since I was rejected by this doctor; and could not go back to the first, I was without a specialist.
When I first received the diagnosis, I  immediately sought a second opinion from the Department of Nephrology,  UCLA Medical Center. This doctor confirmed the diagnosis. He also recommended that I  see a Dietitian and Rheumatologist. I told the Rheumatologist that I was currently without a Nephrologist.  He offered to take me under his care. Shortly thereafter he attended a seminar on Rituxin, a medication used for cancer, which  had just received government approval for use as medication for kidney disease. In July (2011), once a week, I received intravenous772 mg of Rituxin, each week for four weeks.
For these four weeks, after the intravenous injections, all that I was able to do was flop onto the bed. With this and all the other medications, my face swelled and about one third of my hair fell out.  The prednisone had also been increased to 60 mg daily. After the four weeks of Rituxin he informed me that it hadn't worked, although the blood test lab results read negative for the Wegener's (rapidly progressive cresentic glomoruloepritis).  He told me he had done everything he could for me, and referred me to another Nephrologist, who put me on kidney transplant list.
Sometime during this period, while driving in my car, I heard Dr. Tong on the radio (KBRT) talking with a man who had taken his mother for treatment with Dr. Tong.  Listening to his story I was very impressed by what he had to say about the number of improvements his mother had experienced, and the positive effects of the treatment. I scheduled an appointment with Dr. Tong.  I began going once weekly. Over a period of several months (a total of 10-12 therapies), during which time I began regaining my strength. At some point during this time, I stopped taking all medications. Today is the first day of November (2013).  This marks exactly three years since date the doctor told me to plan on being in dialysis by January (2011). Instead, I am now able to walk, work, lift, carry, bend!
The doctor told me the earlier lab report of blood tests showed kidney function improved from 14%  to 17% At the following appointment he told me the lab report blood work showed function improvement from 17% to 19% and blood pressure 158/88.  At this last appointment he said "You're cheating me out of dialysis!"
In addition to this, I had tingling and numbness in my arm and hand, and with one treatment by Dr. Tong, it has completely disappeared.
The care I have received from Yee-Wing Tong, M.D. and Elain Tong, D.O. has restored my health. I asked God for a miracle and that miracle came in the form of the Drs.Tong!  With their help, I am here to write this and to testify to the powerful and amazing healing I received. I look forward to my next visit, as I consider them to be my lifeline, bringing health and well being.
Dyana
5. BACK PAIN, CHEST PAIN. 
Mrs. Choi (speaking Chinese) has had a weak back, and could not stand all the way cooking a meal. My NBE treatments help her every time but the relief did not last.
In addition, she was hospitalized 3 times for severe chest pain that took away her breath. My NBE therapies got rid of the problem.
6. FLU SHOTS,    AVOIDED THE REJECTION OF RENAL TRANSPLANT
We have helped a patient with terminal kidney disease avoided dialysis for 5 years. Then his docotor gave him a drug that greatly damaged his kidney and he needed dialysis. Bad diet cause his kineys to fail and he underwent a renal transplant.
After a year the body began to reject the transplant, as evident by antibodies in his blood despite regular NBE treatments. Adding taking RICE BRAN SUPPLEMENT for two months, the antibodies vanished. https://youtu.be/7ZMKQZaLhQY
7. DEMENTIA, NO APPETITE, FATIGUE AND WEAKNESS
An elderly Vietnamese lady with memory loss. She would ask the family every few minutes about something they had just told her minutes ago. She was weak from not eating as she had no appetite…    Her first treatment greatly improved her memory and appetite. She was hungry before she left the room.
She became stronger. But I forgot to treat her appetite the 2nd time, and she again refused to eat. I treated her digestion on the 3rd time, and she was hungry again before she left the room. https://youtu.be/7ZMKQZaLhQY
Doloris' eyesight was progressively worse after a botched cataract surgery. Her eyesight was greatly improved from taking Zeal drink, enabling her to see without her glasses even at night. https://youtu.be/ai2jb2UU96w  https://youtu.be/IOUtuZ1T7LI
more testimonies coming… 
AN ACCOUNT BY DR. TONG ON HOW RICE BRANS HAS HELPED HIM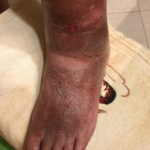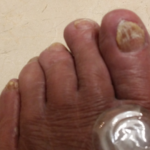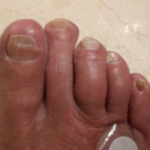 Much of my problems has to do with damp. But I had no symptoms when I was young, as my spleen was strong, which, along with exercises had cleared them.
In 2015 my health declined and further exacerbated after I had treated sick cancer patients. My left ankle cellulitis flared up, the fungal infections has spread to all toenails, I developed arrhythmia, a new yeast infection that has been growing for a year, and fatigue so severe that I could hardly do anything other than sleep and eat.
In the past, NBE treatments was the most helpful, but I was too tired to do regular self therapies. I tried for four months the Ketogenic diet (no Carbohydrates), anti-yeast remedies, essential oil and Chinese herbs, all of which provide minimum results. The itching and yeast.continued to spread. Then I discovered this RICE BRAN SUPPLEMENT.
The first day after drinking three bottles, my blurred vision from a lingering cold, energy and constipation were improved. After three weeks, my ankle cellulitis and energy level felt the best in years. Three months later, the cellulitis and fungal nails had healed significantly as shown in photos above.   
Moreover, the half-moons on my fingernails (signs of vitality) have vanished for the past three years. Five of them have returned. My nails are stronger. It is the first time in 13 years that I feel so energetic. For the past 2 months I have been getting up daily around 6 am, whereas I have always had difficulty getting up before 7:30 am. I have been working on my garden daily, completing projects that I have planned decades ago.
The boost of energy is the key. It enabled me to do more NBE treatments and used muscle testing (Applied Kinesiology, AK) to select herbs to create a formula that I felt immediate results, which I had seldom gotten from many professional herbalists.
I feel like a different person than three months ago. My arrhythmia is gone. My sweet craving is reduced. The gums around my teeth were loose, and now they are more tight, so chewing is more enjoyable. Other symptoms, such as the yeast infection, is also better even though I have been eating whole grains, raw honey and occasional white rice and noodles.
The stabilized rice bran, which provides the earth elements, strengthens the digestive system. This supplement also contains 55 ingredients from whole food concentrate of 26 botanicals with vitamins, minerals, amino acids, enzymes, antioxidants, micronutrients, phytonutrients, polyphenols, healthy fatty acids, trace minerals,  prebiotics, adaptogens, insoluble and soluble fiber. I have used many supplements and herbs pills to treat patients. Rarely is one that is so balanced, including its yin and yang thermal nature. Since our diet is so deficient in these nutrients, this supplement is good for most people.
There is no toxic effects from these wholefoods, but some people have experienced discomforts from detoxification and uncleared blocks. I myself had felt bloating and heartburn for three weeks. If you feel any discomfort, try applying heat and massage to the symptom areas. Also reduce the dose from 1 scoop 2-3 times a day to 1/4 of a scoop 2-3 times a day, and gradually increase the amount as the discomforts lessen.
Disclaimer: Supplements are not intended to treat or prevent any disease. They replenish nutritional deficiencies to improve health and a healthy body can heal itself.  We do not make any claims or guarantees of any kind. Not everyone can benefit from this, as we have different deficiencies. However, I've found that most people feel benefits from this supplement, so you should try it for 2 weeks. If initial detox reactions occur, consult your physician or contact me at doctor.tong@gmail.com.
MUSCLE TESTING (Apply Kinesiology)
AK is a great way to test what food is good for you. Learn AK together with your spouse. Shop for groceries, supplements, etc. by testing each other to select things that are good for both of you. https://youtu.be/ubbYuwYZgU8